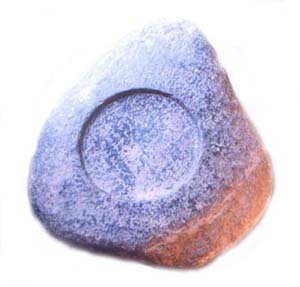 Inscribed lid of stone reliquary
Bhattiprolu, Krishna District, Andhra Pradesh. About 3rd-2nd century BC.
At Bhattiprolu, a village in the Krishna district of Andhra Pradesh, where Alexander Rea discovered inscriptions on stone caskets, the script of which is of a special variety.
This stone casket is considered to be the Rosetta stone of South India as Tamil and Asokan Brahmi scripts are incised side by side enabling correlation.
Some of the letters are peculiar and differ substantially from letters of the Asokan variety denoting the same values. The inscription speaks of the members of the guild- Vacha, Cagha, Jeta, ambha,Tisa, Reta, Acina, sabhika, Akhagha, Kela, Kesa, Maho, Seta, Chadika, Okhabula, Sonutara, samana, Samanadasa, samaka, Kamuka, Citaka.